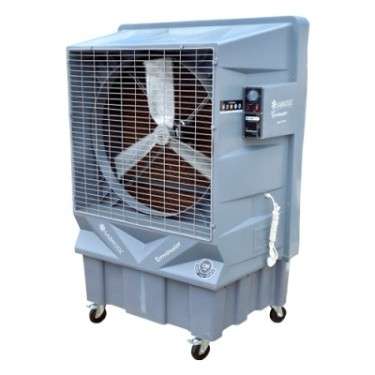 Evaporative cooling is a versatile cooling technique. It is budget-friendly and can be implemented for varieties of area sizes with ease. Also, it is a highly-effective, efficient and environment-friendly technique of cooling. You must be feeling curious to know the functionality of this technique. We, as the expert manufacturers of industrial coolers in Delhi, are going to explain the evaporative cooling and how it works. Refer to the following paragraphs.
What is Evaporative Cooling Technique?
We are sure that you must have felt the sensational comfort during summer when a breeze hits your wet skin just after you come out after the bath. If you can't recall that feeling, then just dip your finger in a glass of water and blow air on it through your mouth. You will feel a soothing effect. You feel cool for a moment till the water from your skin surface evaporates. This phenomenon is known as evaporative cooling.
Evaporative cooling systems or evaporative coolers replicate this natural phenomenon to generate a cool, refreshing and comfortable environment. This is quite an old technique and had already been in use for many years before the refrigerated air cooling technique became popular. Evaporative coolers used to release a high moisture content during their initial days of development. But modern-day evaporative coolers are thoughtfully designed to maximize the cooling performance while releasing minimal moisture content in the air.
How Exactly Evaporative Cooler Works?
Evaporative coolers manufactured by Sabkool, circulates water through a cooling media or pad area and a dedicated fan draws air around the saturated space of that cooling media. Here water evaporates which cools the air passing through these pads. Hot air absorbs moisture to become cooler and gets discharged from there to the operational area.
We at Sabkool ensure the balanced water distribution over the surface of the pad. Also, suitable fans are used to create optimum pressure to draw air through the pads. A robust control system is used for proper coordination between water pumped and air distributed. All these mechanisms are implemented by us to ensure that you get the best cooling effect when you need it the most.
Avail these benefits of evaporative cooling techniques through the industrial coolers by Sabkool, a highly appreciated name among the industrial coolers suppliers in India. Transform your commercial space into a cooler, comfortable and a more productive space with us.